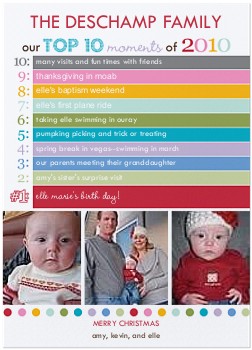 Top Ten Moments Christmas Card
So since I have been getting email saying how cute our card is I can finally reveal our winning choice. I love this card--it is everything I would have written in a letter in a cute format that did not require me writing a letter to everyone--plus at a glance our friends and family know what happened with us this year.
My unsolicited Christmas Card tips:
--Order extras I have 45 people on my list but I keep 5 in reserve for cards that get sent to us by people not on our list--I think it's just plain nice to return a card with a card.
--As nice as hand addressed envelopes are--address labels save so much time! I have an excel spreadsheet, bought some labels(after a coupon for 88 cents), found the template, added a cute font and voila!
--And return address labels are a must--even though there were coordinating ones from shutterfly--I couldn't resist the cute ones from
A Touch of Whimsy
!
--And save a card, I am going to frame ours and add it to our photo wall, I wish I had done this last year as well.
Merry Christmas Everyone!!